Praise the Lord.! Thank god so much!!
I wonder will anyone feel odd at the title of this entry or even think twice to read this entry. Afraid that this must be a very Christian entry. Well you'll decide after you take a look.
We had a class trip yesterday, 20th August 2005. This is a day none of us who joined this trip will ever forget. There were 29 of us, 24 from my class, 2 teachers. One brought along her daughter and nephew. Another teacher brought along his friend. We went to the Kura-kura hill at Tamparuli. Our main destination was the waterfall. We were told its a 2 and half hour journey to reach the second waterfall where we'll be able to enjoy ourselves. And also, we were trapped for almost 3 hours on our way out at the evening.
The entrance of the Bukit Kura-kura (tortoise hill)
We started our journey at 11 a.m. and it was
ACTUALLY
hiking the hill. With numerous uphill and downhill. Not to mention the weather lately which is very wet, creating a harder track for us. There were spots where it was hard to hike due to loosen soil and some obvious effects of land slide. Those hiking at the back had a harder time because the soil got worse after we cross them. Resulting in quite many spot where they have to slide down because its so damp and slippery and it's impossible to HIKE or WALK down (none of us were equipped with any hiking equipments) even worse. The plants(small branches and trunks) we hold on to while hiking is broken by the time others reach the same spot. Before we reached the first water fall, it started to rain. Heavily mind you, making it harder for us. Only a few brought rain coats and it took us one hour and twenty minutes to reach the first water fall. And it was still raining heavily that time. Imagine our joy when we reached there and saw the heavenly waterfall where its not the spot for fun time.
The first waterfall..Kinda blur...It was raining that time...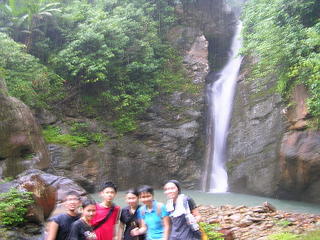 A clearer view of the fall...but blur friends...
So we continue hiking, the track was getting worse all the time. Those at the back being less fortunate. We have to help each other out to cross over some difficult spots where there was no way to walk or hike or slide over. In fact we have to climb the wall of rocks and soil that's starting to loose, to make matters worse, the plants we hold on to consist of small branches with lots of thorns that we try our best to avoid. And if you're not careful, you might just run into it. Those who were, it's still hard to avoid not touching it or getting to your face or accidentally grabbing it for support.
It was raining when we reached the second waterfall at exactly 4 pm and they were only 8 or 9 of us that reached first. The rest didn't came until quite a while, we were lucky to be in front. To enjoy the cooling water. Had some fun playing water, drinking natural mineral water, cleaned ourselves out.
Having fun at the second waterfall...
But time was running out. When latter part of the group came, we gather up, preparing to leave before it gets darker. We were all tired but the rest were not only tired, they wanted to finish the entire route as fast as possible and head out back home. But by that time, there were still 5 person who hasn't turn up. They were at the back. One girl's leg got injured but we were told to move on. One of our teacher had actually left early because of his friend's appointment whatsoever. Anyway, we moved on, with our other teacher staying behind with a few students waiting for the other 5. Her nephew who was the second person beside her who been there before lead us out. I forget to mention that all this while from the very beginning, hikers left white shredded paper all the way to guide us. So that we'll never get lost. And the entire track beside having thorns here and there, it was more like a jungle. Bushes everywhere.
It was around 5 p.m. when we left the second waterfall and it was still raining. To head out to the main road, we have to cross a river. As in walk across it, no bridge, just walk. And after about half an hour hike, we were joined by our teacher and the rest shortly before we reached the downhill towards the river. The rain had stopped by that time.
That was where we were trapped at the evening in the middle of Kura-kura hill.
Because of the heavy downpour earlier at the day, the river flow(current) was very strong and there was absolutely no way we can WALK ACROSS it to the other side of the hill without being washed away by the river and survived through it. We were stranded. It was getting dark. It was around 5.30 plus to 6 that time, we were psychology prepared to stay the night until the next morning where there will be light and hoping we'll be able to cross the river then. The track at that spot was a one person track. All of us sat down at a warmer spot and partly shaded. All of us in row. There was a place at the end of the one-person track that has a shade and all of us can sit in a circle. But did we go.? No. We were afraid it would started to rain again and that would be the exact spot where it would be affected most. LAND SLIDE. Most of our belongings were wet, even water proof backpack didn't work. Those with dry clothing changed. We have food and water with us, we have everyone, we have blankets, jackets. Though all were wet. The girl with an injured leg is okay. A girl brought first aid kit, but we have no torch lights, only phones with lights. But thank god, it was full moon that night, with lots of stars too. So it wasn't that dark. We didn't panicked or whatsoever, the only thing that worried us was our parents. The cold night coming and the ability to stay awake and save energy at the same time. Why can't we sleep to save our energy.? Because we'll get colder when you're asleep and it's difficult to wake you up later. And they said it's easier to get into a coma state. All of us prayed hard, no matter what religion we were, we just prayed. And all that time we heard noises which sound like whistles sound. Our teacher had a whistle and whistled the emergency code. But there weren't any response. Only noisy insects that sounds like the real whistle sound. There were lights too occasionally, not very bright ones, those of fireflies. We whistled and yell every time we hear these noises or saw bright lights but none of them brought response. Were we scared.? We prayed hard, we sang, we talked, we joked. Waiting for the night to pass.
Until around 9p.m, we saw bright white lights. Really bright ones. We whistled, screamed, flashed our phones lights. And soon after that, a few yellow lights crosses the river from the other side and came towards us.
Yahooooo!!!!!!!!!!!!!! We were rescued!!!! The villagers helped us to cross the river one by one and lead us the way back out. It was still an hour walk or hike out to the main road. And mind you, we were lead by two kids that's not more than 10 years old. The others at the back were lead by adults villagers but they checked up with the kids in time to time. The villagers said that they came for us because they didn't saw us heading out after such a long time passing their houses. And half way hiking out, hikers came or they called it as H. They came looking for us. It was even easier that time, they were more people with more torches.
We reached the main road at around 10 something. Some of our parents were overjoyed to see us. Yes, there were parents there waiting for us. Some hikers and police too. And we were very grateful of the villagers and our bus driver. He lodged a police report earlier because we didn't turn up at time. We gather around, counts head for about the hundredth time. And well, head home. Some followed the bus, the rest followed their respective parents.
I reached home around 11.15, dead tired. Scratches and small bruises here and there. Muscle pain all over and still, I was overjoyed. To be rescued, to be heard by god. None of us were hurt. A friend does have an injured leg who almost fainted on her way out, but she's alright now.
A few hours spend..
Hiking to a water fall...
Dirty, filthy, and wet...
Great fun to some.....
But none to some......
Stranded in the middle of a hill....
Cold, damp, worried and tired...
We stayed together...stayed united....
Everyone is alright now....
Everyone is grateful now......
A great memory shared....
An unforgetable experience....
And thanks to everyone.....
Especially GOD....